Ministry Opportunities – Through September 2017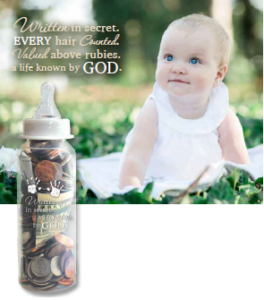 Fill a bottle to save a life known by God. Sanctity of Human Life Sunday is fast approaching and Women's Care Center will once again be providing bottles for your church to get involved in Baby Bottle Boomerang. Sanctity of Human Life Sunday is January 21, 2018. It is celebrated each year around this time to coincide with the date of Roe vs. Wade which legalized abortion in this country. Scripture leaves us no room for question – God values life! "Your eyes saw my unformed body; all the days ordained for me were written in your book before one of them came to be." Psalm 139:16
Things to know about Baby Bottle Boomerang:
We supply the baby bottles. Just determine the number of bottles based on the families in your church who will participate.
Call, drop by, or email to have bottles reserved for your church. Call 304-485-7122 or email devel@wccmov.org
Come by and pick up the bottles or call and we can help deliver them.
Distribute baby bottles at your church on or near SOHLS (January 21st).
Announce the return date to your church so families can get them back to the church. February, 18th is a good date.
You don't need to count the money. Return the filled bottles and we will count and let you know your church's total.
Patients providing testimonies on this website may be participating in our Shepherd's Fold program where they receive goods as a part of this program.
Sharon - Volunteer
God has taught me each woman is unique; each has a story. Some are heartbreaking, but no matter what, God loves each one.
Patient
I just couldn't believe I was pregnant. I was now in a situation I never thought I would be in …pregnant and homeless.
Patient
A friend told me about Women's Care Center. I was still in shock over how difficult life got for me so quickly. I met with a nurse and immediately she jumped into action and found me a place to stay.
Patient
I was not judged and I didn't feel alone